Press
Watch as Co-Owners, Tom Jones and Executive Chef Willy Okimoto, cook up some special Tonkatsu with Trini on KHON2 Living 808, Hawaii's Kitchen, while Tom tells how this New Jersey native came to be a Japanese restauranteur here on the island.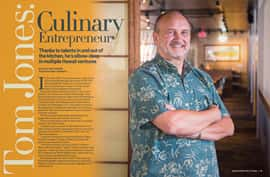 The culinary entrepreneur behind Gyotaku In the early 1970's, Thomas Jones was a high school kid serving cheeseburgers to tourists on the New Jersey boardwalk. Today he's a co-owner of a top-ranked chain, Gyotaku Japanese Restaurants.
Gyotaku may have invented the Poke Bowl Kimura says: In 2007, I put the poke bowl claim out on social media, and friends and followers quickly piped up that they swore they could get poke bowls at Gyotaku more than seven years ago.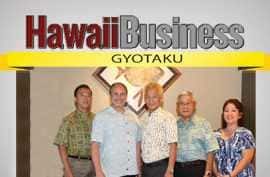 2014 Founders and Visionaries 
Thomas Jones and Nobutaka "Tony" Sato, decided to continue the Japanese family restaurant concept under a new brand, Gyotaku.
On OCTOBER 29, 2012, the Hawaii Restaurant Association inducted a new group of individuals to the 2012 Hall of Fame. Inductees, introduced at the evening's gala celebration, to be held at the Hawaii Prince Hotel Waikiki, included: • Tom Jones, Gyotaku Japanese Restaurants, Oahu
Gyotaku Leads the Way in Local Business Recycling At Gyotaku Japanese restaurant, sweet potato haupia pie is not the only item in high demand. In fact, some of their waste materials can be valuable as well.
Tom Jones of Gyotaku Japanese Restaurant named Small Business Person of 2005. This and other awards presented at Small Business Hawaii Annual Conference.